A Street View | Trusted Virtual Tour allows customers to see inside and explore your store, hotel, restaurant, showroom or offices through an interactive panorama.
With Visual 360 Media Virtual Tours your visitors will love being in control of incredible 360 degree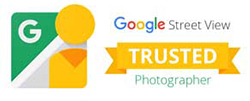 interactive panoramas that let them connect with your business in a unique, vibrant, fun and engaging way. Showcase your business on line, bring it to life and allow your visitors to step inside and explore your business no matter where they find you on the web. Turn your on line visitors into customers, before they even arrive! With a Visual 360 Media Virtual Tour you can show your customers what your business has to offer, show them what you do and how your business differs from your competitors. You can creatively inform and educate your visitors about your business, whilst reassuring them that a visit to your business is worthwhile.
A Google Street View Virtual Tour (previously called 'business photos') is quite simply, Google Street View in your business! Think of the Google Maps we use day to day. Go into Street View mode, walk along the street, look for the parking you require, or the shop or restaurant your friend mentioned the other night. With a Google 360 Degree Virtual Tour you may look inside and all around that business! Once your business has a Google Street View Virtual Tour you gain greater visibility in Google Search and Google Maps. Once your business has been photographed and added to your Google Business Page, your Virtual Tour will be viewable by internet users all over the World. So now that business you have worked so hard to create can be seen by everyone! Ideal for Restaurants, Wedding Venues and Hotels, Kitchen Showrooms, Vehicle Showrooms, Shops, Casinos. In fact any business you can think of. We have worked with them all, large and small. Look at the samples below, watch the informational videos below then pop over to our portfolio here.
360 Degree Google Virtual Tours Below – Click and Drag
Informational Videos Below
It costs nothing to feature your business on a Google+ business Page. Add a Street View | Trusted 360 Degree Virtual Tour and your customers can walk around, explore and interact with your business like never before. You can easily add  the virtual tour and additional photos to your own website. Full instructions are provided on request. Prospective customers will now be able to have a look around your business, just like being there, and when they like what they see, they are more likely to become a new customer to your business!
You can now have a Street View virtual tour by the first Essex accredited and Google approved business photographer, John Goulding. As an official Google product a Google Virtual Tour will enhance your Google search result and enhance your Google Map result. Easily embed the Virtual Tour into your website with just a few mouse clicks. It really is that simple.